Dear Students and Friends,
We have reached the end of our Fall Term and have many beautiful works of art to show for it! As a token of pride in our students' accomplishments, we invite you along with your family and friends to join us as we showcase a high quality Group Art Show at our Open House on Sunday, December 10th, .

- With one term wrapping up, a new term is just around the corner. As we plan and prepare for our upcoming Winter Term Art Classes, we look forward to sharing 2018 together with you. We hope you could join us on this journey of inspiration, aspirations, and endless exploration! Winter Term Art Classes will begin January 8th through March 31st. Classes are filling up fast and new classes have been added to our schedule. If a class that fits with your schedule is labelled "full" online, please email or call us with a request to be placed on a wait-list. A deposit is required to be included in a wait-list. The deposit will be refunded after the second class of the term if no spot becomes available.

- While you are browsing for information about Winter Term classes, we invite you to meet Our Team, which is now featured on the website.

- Please note that the studio will be closed December 17th through January 7th. During this period we will continue to answer emails and phone enquiries as well as process registrations online and over the phone.

- To all those wishing to stay in touch and receive local, national, and international news from the Art World, follow us on Facebook and Twitter.

- Since our best promoters are our own students, we offer to current students a $20 coupon redeemable for future class registration when a new student gives us your name as a referral. Coupons have expiry date, must be presented at time of payment, and there is a limit of one coupon per family per term.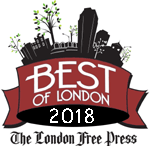 - BEST OF LONDON 2018 - Voting begins December 11th at the London Free Press website. Help us once again to become London's favourite Art School. More details to come.


As 2017 comes to an end, ArtVenture wishes you and your family a warm, safe and colourful holiday season!

Artistically Yours,
The ArtVenture Team
---
The Art of Burton Morris
Burton Morris, regarded as America's "grandfather of Pop Art", is known for his bold, graphic paintings of modern icons. His subject matter includes everyday objects that portray today's popular culture. From the age of three Morris has been drawing and painting, and has always enjoyed entertaining people with his artwork. By adding a contemporary twist to traditional "Pop Art" Morris was able to create a distinctive style of his own, characterized by radiant outlines and vivid colours. He would choose one subject per composition, altering the colour variations to create what he calls "an instant happening" for the viewer. His compositions often seem to pop-out from the paper due to the smaller background within which he painted them. Burton Morris further enhanced his work by incorporating sword-like slashes to suggest shards of energy - which are a direct result of his study of woodcut prints from the 16th century. Building on the legacy of Pop Art masters such as Andy Warhol and Roy Lichtenstein, Burton presents his personal world of popular American icons that put a delightful spin on everyday objects and motifs. In his post-Pop style, Morris boldly projects an enticing mood of happiness, high energy, and fun. His success continues to grow as a contemporary American artist, whose art has raised thousands of dollars for charities such as the United Way, Race for the Cure, Muscular Dystrophy, Art for AIDS and the Children's Hospital. His work continues to represent international events such as the Winter Olympics 2002, the Annual Academy Awards 2004, and the World Cup campaigns of 1998 and 2010.
Sources: http://burtonmorris.com/
https://journals.psu.edu/wph/article/download/59216/58941
https://en.wikipedia.org/wiki/Burton_Morris
Grade 9 students'

works inspired by Burton Morris
From top - Kassidy M, Lynn X, and Elizabeth C.
---
Kids Corner
Popular culture inundates us with bright and vibrant colours of logos, brand names, toys, and electronics. If you want to learn from one of the most famous modern post-pop artist in America, you too can take these icons and turn them into a composition of bright coloured works of art. To make your very own Morris-Inspired post-pop art, follow these easy steps and send us pictures of your creations!!
---
Happy Birthday To You…
We wish our current and past December Birthday Students
James A, Rohan A, Victoria B, Matthew B, Sydney B, Meadow C, Amaya C, Alex C, Liv C, Stefany C, Lina D, Elizabeth D, Lola F, Lucas G, Uri G, Alexis G, Nigel H, George H, Shreyas I, Brooke J, Isaac K, Ashton K, Anat K, Sharanya K, Tyler K, Annabelle K, Elizabeth L, Iona M, Madison M, David M, Aliah M, Emma M, Ava M, Skylar M, Dawson M, Micaela M, Grace M, Alana M, Keara N, Sybyahnah N, Camryn O, Marta P, Tara Q, Amelia P, Ava P, Lorelai P, Margarita R, Reegan R, Sammy R, Nolan S, Raquel S, Liam S, Clara S, Luna T, Sofia T, Angelo T, Rebekah V, Evan W, Sophia W, Janaya W, Alex X, Henry Y, Nathan Y, Harrison Y, Allyson Z, Kiser Z, Amia Z, Caden Z, Bob Z (and others we may have forgotten)
a very happy month !!
---
Quote of the Month
"Once you 'got' Pop, you could never see a sign the same way again. And once you thought Pop, you could never see America the same way again."
Burton Morris
---
---
ArtVenture Art Studio 1438 Aldersbrook Rd. London 519 471 4278
www.artventure.ca info@artventure.ca
---
We send a monthly newsletter and notices of special events only to our current students and subscribers. To subscribe follow this link. If you wish to be removed from our mailing list please follow the instructions at the bottom. We respect your privacy and do not share any information provided.